Sorry, there was a problem displaying the search form. Please .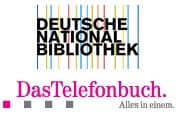 German National Library and Das Telefonbuch
Ancestry.com.
German Phone Directories, 1915-1981
[database on-line]. Provo, UT, USA: Ancestry.com Operations, Inc., 2015.Original data: Originals were digitized from the following collections: Berlin ZC 3344; Berlin (Ost) ZB 56308; Frankfurt am Main ZB 17536, ZB 53709, ZB 65276, ZB 66111; Hamburg ZB 19164; Leipzig ZB 547; München ZB 20568. Access to originals courtesy of the German National Library in Frankfurt am Main and Leipzig. In partnership with DasTelefonbuch.
About German Phone Directories, 1915-1981
This database contains telephone books covering the years 1915–1981 for five of Germany's major cities: Berlin, Frankfurt am Main, Hamburg, Leipzig, and Munich.
Search Tip:
This database was indexed using Optical Character Recognition (OCR) technology. While we have used the best technology available, please be aware that there are limitations to indexes created by computers as compared to humans. If you do not find a name using the search option, try browsing to find the name, or try searching the name by entering it in the keyword field.
Why Use Directories:
Directories are often used to pinpoint individuals in a specific place and time, as they can tell you when and where someone lived. Because they were typically published annually, they are a good way to track your ancestor's movements through the years.